Adron Homes and Properties has slashed its estates prices by 50% to encourage Nigerians own a house regardless of their income in its Lemon Friday happy hour promo.
The real estate company in ensuring its mandate of making the incredible affordable slashed the prices of all its estates across the country to encourage Nigerians own a home of their own.
Enjoy 50% discount spread balance within 36months on Full Plot.
Pay initial deposit:
– Pay ₦25,000 get Cockerel and oil OR Rechargeable lamp or Electric iron
– Pay ₦50,000 get Cockerel and 10kg rice or Electric Fan or Blender 
– Pay ₦100,000 get Turkey and 10kg rice or Deep Fryer or Juicer 
– Pay ₦200,000 get Goat and 25kg rice or Air Fryer or multipurpose Grinder 
– Pay ₦500,000 get Goat, 50kg rice and oil OR Deep Freezer or Water Dispenser 
– Pay ₦1,000,000 get A Big cow or Smart TV or Split AC
– Pay ₦1.5m get A Big cow, 50kg rice and oil OR a Double door refrigerator or a Standing AC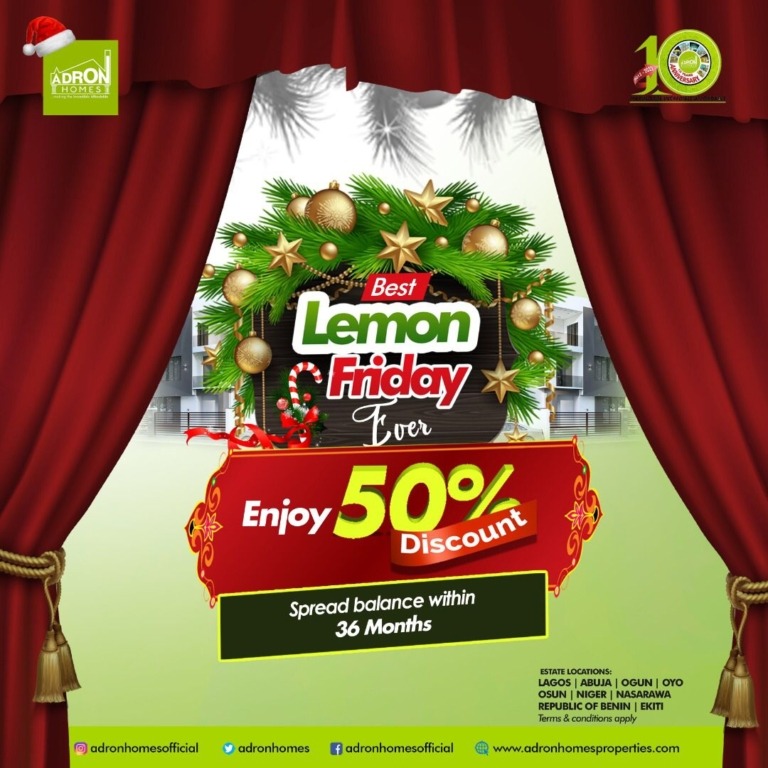 *Terms and conditions applies *
Effective date -October 7th 2022.
THIS YEAR'S LEMON FRIDAY IS SUPER AMAZING 🤩